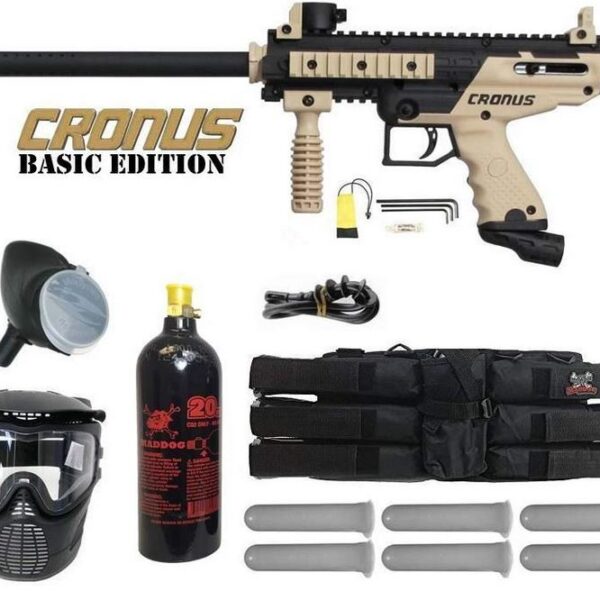 COMPLETE ALL-IN-ONE PAINTBALL GUN PACKAGE! Tippmann Cronus .68 Caliber Paintball Marker Gun Player Package. Everything You Need to Get in the Game!

THE BEST CHOICE FOR ENTRY LEVEL PAINTBALLERS! High performance, low maintenance, reliability, and incredible durability make it one of the most popular paintball markers across the globe. Built with the paintballer in mind, the marker's high-impact, composite construction is extremely lightweight and features molded-rubber grips and an internal gas line for enhanced control and maneuverability. Plus four Picatinny rails for fast and easy custom modification.

TIPPMANN CRONUS MILSIM STYLED .68 CALIBER SCENARIO PAINTBALL MARKER - Semi-Automatic - Adjustable from 250-325 FPS - Barrel Thread: A5 - Proven, In-line Bolt Design - Internal Gas Line - High-Impact Composite Body - Multiple Picatinny Rails - High-Performance Ported Barrel - and MORE!

Player Package Includes: GenX Stealth Anti Fog Paintball Mask, 200 Round Gravity Fed Loader, Maddog 20 Oz. CO2 tank (Shipped Empty), 6+1 Paintball Harness w/ (6) Standard Paintball Pods

TAKE THE PAIN OUT OF PAINTBALL! EASY, ALL-IN-ONE, Complete Package! This CO2 Starter Kit has Everything You Need for Field Entry.. Fill Your Tank, Add Some Paint, and You're Set! Tippmann's Cronus Paintball Marker comes with a 1-Year Manufacturer's Warranty, not to mention, Tippmann's DEDICATED Cerfified Technical Support Department Available as a Resource For You and Your Marker All Year Long!